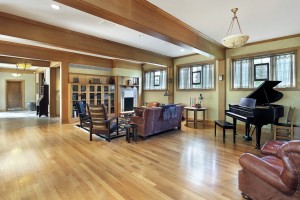 In this article we promise not to offer baking soda or vinegar as natural floor cleaning solutions for sealed hardwood floors. Although these ingredients dominate the search results, they're not really appropriate for cleaning sealed hardwood floors and they can even be potentially harmful to finished floor surfaces as we explain below.
What we do offer are simple, common sense solutions and products for organic and non-toxic floor cleaners that keep your home, your floors and the environment clean and fresh.
The Difference Between Sealed or Finished Hardwood Floors and Unsealed or Untreated Floors
Let's first be clear what kind floors we're talking about here. The solutions below are for cleaning sealed (or finished or treated) floors. Sealed floors are made of real wood (not laminate) and they have a coating of polyurethane or a similar type of clear protective finish.
Unfinished floors are raw wood. It's very rare for a wood floor to remain unfinished because the wood would be left open to stains from water or other liquids. The only time you're likely to encounter untreated or unfinished wood floors would be immediately after installation and they haven't been sealed yet, or in a very old home where the finish has worn off.
However, finished floors are also susceptible to damage if too much water is used while cleaning them, a topic covered later in this article.
Reason for Using Natural Hardwood Floor Cleaners
Waster Reduction – Fewer Empty Bottles to Landfill
There are plenty of good reasons to clean your house using natural products. Many people don't want to add more waste to the environment by buying plastic bottles of floor cleaner.
Safe for Pets and Children
Families with children, especially those young enough to play on the floor, may want to avoid harsh chemical floor cleaners so their children aren't exposed to harmful fumes and residue.
Adverse Reactions to Strong Chemicals
Some people have very sensitive skin and allergies that limit their ability to be around potent odors or caustic chemicals that are often found in commercial floor cleaning products.
It Starts with an Once of Prevention
"An once of prevention is worth a pound of cure" as the old saying goes. Personally we always felt a little awkward at homes where we had to take our shoes off upon entering. But you know what? it feels good after a while and they might be on to something in keeping their home clean.
Not only is this preventative measure good at keeping carpets fresh, but shoes track dirt onto hardwood floors and then grind the particles against the wood with their hard soles. Obviously this is not good for the finish.
But whether or not you insist visitors take off their shoes, at least performing regular vacuuming or damp mopping on the floor to pick up particles will remove these tiny pieces of grit that act as sandpaper against the finish.
So What's Wrong with Cleaning with Baking Soda and Vinegar
Any search of natural or organic or non-toxic floor cleaning solutions is bound to return a lot of results suggesting baking soda and vinegar, sometimes mixed together. These can be effective cleaning agents in some situations but they're not the right the answer for cleaning hardwood floors.
The first problem with these compounds is that they are mildly corrosive. Baking soda is mildly alkaline which means it has an above average pH level and vinegar is mildly acidic with a below average pH level. This means they are mildly corrosive.
And as far as the advice to mix them baking soda and vinegar goes, this makes little sense. When you mix an acid and a base together they neutralize each other in an fizzy yet worthless mess.
It might make sense to use these ingredients to scrub your tiles, shower stalls, windows, countertops or grout, but don't bother mixing baking soda and vinegar together. And don't put them on your hardwood floor, either one alone or together.
Other Good Cleaners That Are Not Right For Hardwood Floors
The same is true with cleaners offering wax-based finishes or those that contain ammonia. These cleaners can cloud the nice shiny finish of a hardwood floor. These types of floor cleaners might be appropriate for tile, vinyl or laminate floors, but they're not right for use on finished hardwood.
Natural, Oganic or Non-Toxic Cleaning Solutions for Sealed Hardwood Floor
Use Regular Dish Soap
So what are good mild cleaning solutions that won't harm your hardwood floor? Actually the dish soap you use in the kitchen sink can be mixed with water for a safe mild mopping solution that won't harm or dull the finish.
Off the Shelf Natural and Non Toxic Cleaners
Yes, above we talked about keeping plastic out of the landfill but hopefully most of us have access to way torecycle our household plastics. Also some of the companies mentioned here use bottles made recycled materials or plant based plastics.
There is a company called Method that makes non-toxic, biodegradable soaps including dish soaps, laundry cleaners and a wood floor cleaning product.
http://www.amazon.com/gp/product/B004ZATG7Y/ref=as_li_ss_tl?ie=UTF8&camp=1789&creative=390957&creativeASIN=B004ZATG7Y&linkCode=as2&tag=carpetfloor-20
Biokleen is another company making natural cleaning products. Their Citrus Essence Bac-Out Multi-Surface Floor Cleaner is safe for sealed hardwood floors. Their products are concentrated to reduce packaging and non-toxic to be safe for people and the environment.
Even big brand Clorox has a line called Clorox Green Works has a neutral floor cleaner which is pH neutral and 99% natural made primarily of mineral and plant-based ingredients.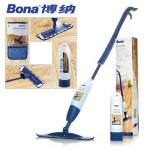 A company called Bona also offers non-toxic floor cleaning products. They also have a Bona Floor Cleaning Mop for an easy complete natural mopping system.
Trewax also offers a pet safe, no fragrance, all natural and pH neutral sealed floor cleaner. Considering what a growing market green products are there are sure to be other lesser known, regional and upcoming products entering the market all the time.
 A Word About Wood and Water 
The thing to be careful about with water is to not leave it on the floor for long.  If you've ever kept a toothpick in your mouth for a long time you can understand the problem.
Even though the floor has a urethane finish, pooled water left on a finished floor for even a few minutes can leave a mark. This is why we use coasters under cool drinks sitting on a wood table.
Some people recommend only letting the mop get damp, but if you prefer to see soapy suds on the floor just be sure to wash a small area at a time and towel dry all the water completely before moving on to the next section to avoid leaving marks from any remaining droplets.
We recommend using an old bath-size towel for drying the floor to be sure the towel remains absorbent when cleaning a large area.
Steam Mops and Steam Cleaners Are Safe on Sealed Floor
While excessive water on a hardwood floor is bad, using steam mops and steam cleaners are actually quite safe.
Plus steam cleaners and steam mops don't require any additional products at all so they're a great way to safely clean floor with no chemicals, fragrances or residue.
By using only heat and water vapor your floors and your home will be left clean and safe your children, family, pets and the environment.
Visit these links for more information about the model choices and pros and cons of Bissell Steam Mops, the Shark Steamer and the Shark Steam Mop.