Shark Steam Cleaner Review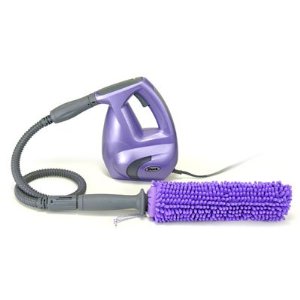 The review below is based on thorough research into the pros and cons of the handheld Shark Steam Cleaner (sometimes also called the Shark Steamer) and its performance in real users' homes.
On this page is product information, best and worst use applications, and user tips and quotes from actual Shark Steam Cleaner buyers.
Learn Below:
Popular Customer Uses
Working Around the House with the Shark Steamer
User Tips – Attachments and Operation Advice
Bathroom and Kitchen Results
Shark Steam Cleaner Customer Uses
Here are some unique uses that people who bought the Shark Steam Cleaner came up with to clean around the house:
Clean bird and pet cages without chemicals
Remove grease from under range hoods and kitchen cabinets in a new rental home
Squeegee windows with ONE paper towel, and no Windex
Clean inside the holes in the top of the microwave and inside of oven door
Steam delicate items like crafts and silk flowers
"I used it on the grout around the tile, and brought up not only the dirt, but the smells from those who lived here before me."
Walmart Price ~ $69.00. See Price and Shipping and Read Customer Reviews
Amazon Price ~ $89.00. Compare Prices and Read Customer Reviews
Shark Steamer In Use
According to multiple customer reviews the steamer worked great on cleaning grout between tiles as well as in other close up situations. Two areas where most users took issue with its performance were when using the longer attachments and have having to use two hands to hold it.
And we uncovered an easy trick people came up with to keep the steamer running when you need both hands for cleaning.
Review important details such as the steamer's weight, included accessories, instructions, water capacity and cord length.
Easy To Handle?
The Shark Steamer has to be hand held for some cleaning jobs, such as wall and drape cleaning, so weight and ease of use are big considerations. At three pounds (3 lbs. ~ 6.6 kilos) it's light enough for most people to hold for the duration of these types of cleaning jobs.
However, some people mentioned that a shoulder strap would be an ideal accessory. For higher up jobs, it's easiest to rest the unit upright on a table. Just be sure the table has a flat surface and a durable finish and put a towel under it in case of drips from condensation.
Cord Length
The cord length is 30 feet which most users felt was a long enough length to get around without having to unplug and find a new outlet too often.
Steam Temperature
The steam temperature should be very hot when it comes out, to the point that you wouldn't want to get your hand in front of it. It takes 1 to 2 minutes, at most, for the water to get hot enough to become steam.
It's normal for the steamer to make some noise as it sends the water through the heating system. When the steam does come out it should be too hot too want to put your hand near it.
Attachments
The two favorite attachments of Shark Steamer users are the wedge tool and the scrubbing bristle brush (two are included). The next most popular piece is the fluffy purple cylinder tool which was mentioned most for easy blind cleaning.
While some users said all the attachments worked well, others thought that the longer attachments were so long that the steam lost some of it's heat by the time it got to the end.
Interestingly, some buyers mentioned it being hard to take the attachments on and off while others said how easy it was. Maybe these mixed reviews depend on how comfortable someone is performing these kinds of mechanical tasks. Shark must get the same questions because they provide instructions for how to take on and off each attachment.
The attachment tote bag was mentioned as an thoughtful addition to store them and keep them all together.
Water Use and Trigger Trick
Shark recommends using distilled water in the steamer, "if you have hard water". We'd go one step further and suggest always using distilled water to be sure minerals and impurities don't calcify inside the steamer and block the flow. Distilled water is only a few cents a gallon at the grocery store.
Water capacity is 15 Fl. oz. (450 mL) which according to user reports is 20 to 25 minutes of steaming without having to refill. On big jobs or when doing several jobs around the house this time can probably go by quickly. But for smaller cleaning jobs like touching up blinds, walls and corners, 20 to 25 minutes is probably enough.
"My only complaint is that you must hold the trigger for continuous steam, and when using it continuously- it runs out of water fairly fast. Don't know how it does if you are pumping it and steaming in short bursts.

Frankly, I don't care – it has done more for my floor than I had hoped. "
The Trigger Trick – Use a velcro strap pulled tightly around the trigger to keep the steam coming and set the unit on a towel on a flat surface to have both hands free for steaming and cleaning.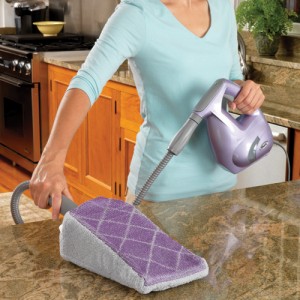 Dust and Grease Cleaning Abilities
Based on a summary of reviews 80% of customers said they would buy the Shark Steamer again. The most convincing support for the Shark Steamer is the number of people who said that it cleaned dusty and greasy things like blinds, oven hoods and walls. Things that before they had no other good cleaning solutions for without making more of a mess.
If you've ever tried using water to clean dust and grease you know it can be hard to remove so it's believable that they found the Shark Steamer a good solution.
"I have red walls in my living room and any time I try to dust them or wash them it leaves streaks that are worse than the dust that covers them so I haven't cleaned the walls in a LONG time. I tossed on the dusting attachment and buzzed over the walls quickly. No streaks. No dust. It did exactly what I wanted it to do."
Kitchen and Bathroom Factor
The second factor that sells us on the value of the Shark Steamer is its bathroom and kitchen cleaning capabilities.
Not only do kitchens and bathrooms require a deep cleaning solution to get rid of grease and mildew but clean bathrooms and kitchens affect how we feel about our home and how others perceive us.
A tool that gets them clean with less scrubbing is a huge time saver.
Shark Steamer Drawbacks
Instructions Poor But Website Good
Several people mentioned that the instructions that come with the product are not clearly written, however no one cited that as a real problem. In fact some people were a little amused by the funny language. We should also note that there is an extensive Frequently Asked Questions (FAQs) section on the Shark Shark Steam Pocket website that gives clear answers on many topics.T
Number One Cause of Negative Reviews
A couple of users online reported receiving damaged or defective units which is why we suggest buying it from a reliable retailer. As soon as you receive the steamer test it right away (pick up some distilled water from the store before it arrives). Turn it on and wait a minute or two for the water to heat up.
Test Immediately Before Discarding Box and Receipt
If the steam comes out very hot in about a minute your Shark Steamer is ready to clean. If not, contact customer service to double check the operation instructions. A few users did admit to user error in their use of the steamer and were able to get their unit going once they had the right information.
As with any product purchased online or in the store it's always a good idea to check all the parts and test the device before throwing away the packing materials and receipt.
Value Versus Price
With a price under $90 for chemical free cleaning, easy garment and fabric care, glass, and grout and grease cleaning abilities of the Shark Steamer we see this product as well worth the price. Also the number and type of accessories included that are designed to fit into tight areas add to the product's overall ability to clean well.
Based on the positive experiences of the Shark Steamer's ability to clean hard-to-clean items like glass windows and shower doors, tile grout, range hoods and walls we feel confident you'll be satisfied buying the Shark Steamer as long as it comes from reputable retailer.

Shark Steam Prices and Retailers
Or
Shark Steam Pocket Portable comes with the following items:
Steam Bottle
Extension Hose
Wedge Cleaning Tool
Cylinder Cleaning Tool
Detail Cleaning Handle
2 Detail Brush Accessories
Garment Steamer Diffuser
Garment Brush Attachment
Garment Steamer Cover
Shower Door Squeegee Attachment
Filling Flask
Direct Steam Nozzle
All-Purpose Wedge Cleaning Pockets
All-Purpose Cylinder Cleaning Pockets
Steam Duster Cylinder Cleaning Pocket
Scrubbing Wedge Pocket
Nozzle Cleaner