Hoover FloorMate
On This Page:
FloorMate Pros and Cons
User Tips
Review Summary
Models & Prices
The Hoover Floormate is designed to do three jobs in one machine: it's a bagless vacuum, it washes and rinses floors (dirty water goes into a separate compartment), and the dry cycle leaves floors clean and dry.
How well does it perform? It does well in two tasks, and in one area there is room for improvement…
Hoover FloorMate Features:
Below is a partial list of Hoover FloorMate features. The model reviewed here is the FloorMate SpinScrub FH40010.
Vacuums, Wash & Rinses, Dries – Simple dial with three clear settings
Counter Spin Brushes – Six gentle brushes spinning in clockwise and counterclockwise directions lift dirt from all angles
27′ Retractable Cord – Long enough to cover a large room
Removable Tanks, Nozzles, Brushes – For easy cleaning and maintenance
Fingertip Control – Comfortable, accessible detergent release button
Folding Handle – For easy storage in small spaces
Rubber Wheels – Moves easily over floors on gentle rubber wheels
The FloorMate works by first mixing water and a cleaning solution (included) in the clean-water container. The cleaning mixture is dispensed into six rapidly-spinning soft brushes and the dirty water is immediately suctioned off the floor.
Replaces Mop and Vacuum?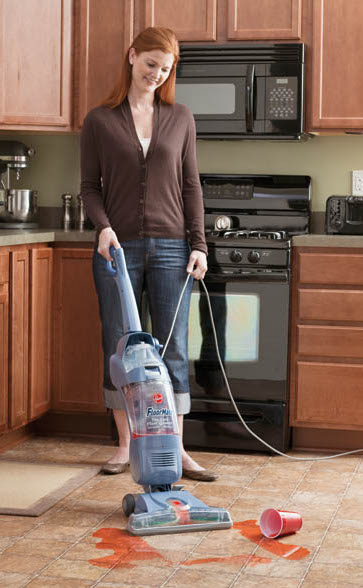 Hoover Floormate claims that its combination of abilities means floor cleaning jobs can be done in one pass instead of first having to vacuum, then use a mop to wash and dry. Owning a floor cleaner that could actually do these things would mean never having to rent a machine or keep an appointment with the floor cleaning guy again, which is certainly appealing to those of us with tile and hardwood floors.
Promises Versus Reality
But can a single machine really do these three things satisfactorily? If it lives up its promises at it's current price the Hoover FloorMate costs less than some vacuum cleaners alone on the market go for. The FloorMate comes in two versions, one with additional tools priced around $179.00 and the machine-only model costs about $135.00.
Model FH40010B (154 Customer Reviews – Read All Reviews)
Hoover FloorMate Pros and Cons
Let's start with what people liked about it. The FloorMate's ability to clean floors easily and thoroughly is the top benefit mentioned in dozens of online user reviews. You might be asking, "Isn't that the point of the machine?" Well it is, but it's also a vacuum and we'll talk more about that function in the next section.
Floor Cleaning Abilities
For the majority of users the detergent and spin brushes did a good job cleaning a variety of hardwood and tile floors. Its ability to clean the grout and into grooves of rough surfaces like Travertine tile floors was mentioned more than once.
How clean is clean? Two reviewers mentioned that after using the FloorMate they could wipe a white paper towel over the floor and it came up clean. That test, as well as the amount of dirt in the used water collector at the end of the cleaning job, was their evidence that the floors were thoroughly cleaned.
OMG this is the BEST machine to use on your floors 12/31/2011

I have twin girls and I am constantly cleaning the floors every day. I take the floormate out 1-2 times a week. I LOVE how clean my floors are. Its incredible how dirty the water in the tank gets, [it] makes me feel so much better when my kids play on the floor !!!²
Picks Up Dust and Clay – Two reviews of note came from people who live in areas with chronic dirt problems;  a woman who used it against the red clay of Georgia and a gentleman dealing with sand and dust tracked in in Arizona.
…[It] really cleans the tile (in my new home in Arizona). I rebought this sort of product because, for anyone that hasn't lived in Arizona, the area is extremely dusty and a lot of tile is textured. My intention was to buy it to *try* to clean the tile and then return it. This product is not going back. [more]¹
On Travertine Tile and Georgia Red Clay:
I have travertine tile (very textured) floors throughout my kitchen and family room and NOTHING has ever gotten them clean of the Georgia red clay where I live! I have tried everything from a steam-mop machine to hands-and-knees scrubbing. This machine WORKS! The only other time I've seen them this clean was after paying for commercial cleaning which was quite expensive.

…I definitely recommend! A white paper towel wiped across the floor stays white…amazing. [more]¹
Model FH40010B (154 Customer Reviews – Read All Reviews)
FloorMate Reality Check
As with any product the FloorMate has a few areas mentioned for improvement. It seems the machine's strength is its floor washing and scrubbing abilities as a few people took issue with its vacuuming power.
Vacuum For Light Dirt Only
While the vacuum was said to pick up sand, dust and small particles just fine, some people noticed that it didn't take up larger pieces as well as a traditional vacuum.  Another reviewer said it didn't get up all the dog hair.
It does a great job at sucking up dirt, just nothing too heavy (will not pick up small gravel or dried Play Doh for instance).
It seems the vacuum is best used to pick up dust from the floor's surface before the wash cycle. It's probably safe to say the Hoover FloorMate is not going to be a replacement for all the vacuuming that's done around the house.
Noise, Power and Weight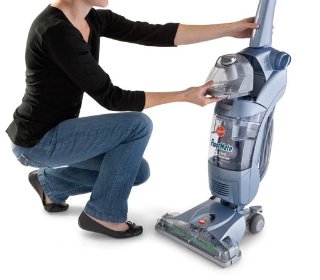 A few people mentioned that FloorMate is noisy. As you can see in the photos above and below there are six scrubber brushes that clean by spinning at a high rate. The motor required to spin the brushes and provide suction for the water pickup undoubtedly contributes to the noise factor.
And as an owner below notes, some noise may be the trade off for the FloorMate's overall performance.
…For all the products on the market, the spin scrub gets the job done the best. i would not say it is "perfect" – but if you are looking for something "perfect" you will be continuously disappointed.

Yes, it could be quieter (although then the engine might be weaker); it could suck up more water on the wash mode (but i suggest using the squeegee only mode if you need that); yes it could weigh less (although i suspect it would come at the price of cheaper construction).

Overall i am VERY happy with it and would recommend it to anyone. i also really like the cleaning solution it comes with.¹

By J9 "J9" (Northern California)
User Tips
A few buyers mentioned that it took them a couple tries to get the desired results for their floor. They suggested paying attention to small details during the first few uses to improve results. Tips included:
Alter the ratio of cleaning solution and water to balance cleanliness, streaking and drying speed
Practice different machine angles and movements when cleaning and drying; try with or against grain, or across or in line with grout lines, for example
Notice how much floor area to clean before going back to run the dry cycle to reduce how long water stays on floor
Owners passed along these tips to alert others how do reduce streaks or dullness and help other users get a result they'll be happy with. One reviewer even said the FloorMate was able to buff out marks left by a previous cleaner.
Model FH40010B (154 Customer Reviews – Read All Reviews)
Ease Of Use
The Hoover FloorMate got high marks for easily cleaning floors that had previously required traditional mopping, or manually cleaning on hands and knees.
Can't use a mop anymore and was looking for something else. Love love love this!! Light weight and easy to use…even with arthritis.

By Jen from Wetumpka, AL³
Maneuverability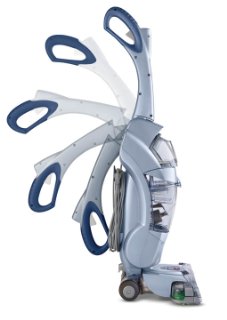 A lot of people talked about how it easy it was to fill and empty the water buckets. The weight of the machine was discussed but for the most part users said the machine's weight wasn't an issue because the rubber wheels made it easy to roll it to where it was needed.
Size and Storage
The handle is collapsible which allows it to be stored in a small closet, cabinet or other area close to where it's used most frequently.
Durability and Warranty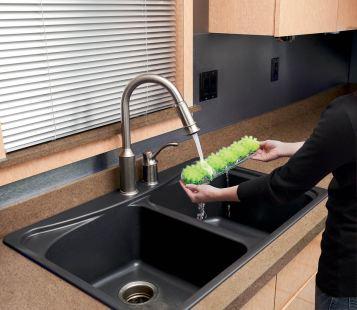 While there were a few reports of machines not working, it appears it was quickly noticed because the machine never worked from the time it arrived; perhaps because of damage in shipping or due to a defective unit.
Some reviewers admitted to user error and were able to get their FloorMate working after looking at the instructions or contacting customer service.
There is a one year limited warranty on parts and labor. And many problems and questions are easily solved by contacting customer service at the included toll free number. Be sure to reach customer service during their operating hours to avoid what happened to this person:
It's Saturday so I can't call customer service. I will say that it takes two hands to release the brush assembly–and you would need a third hand to pull the assembly out. Unfortunately, I have only two hands.
Product and Online Support
There FloorMate comes with a 54-page Product Manual. There are also extensive FAQs on the website covering many maintenance and technical questions. Customer service is available weekdays and evenings by phone or email.
Model FH40010B (154 Customer Reviews – Read All Reviews)
Review Summary
During our research into the Hoover FloorMate we found that over 90% of FloorMate owners gave it Four or Five Stars for overall performance in their online ratings.
The highlights of the machine were how fast and easy it made floor cleaning compared to using a mop and bucket or cleaning by hand. Most FloorMate owners specifically mentioned that it cleaned textured floor surfaces well, although there were a few comments that it could have cleaned better in deep grout.
When the vacuum feature was mentioned people were clear that it wasn't going to replace your primary vacuum. Considering the FloorMate's primary functions as a floor scrubber and dryer it appears a compromise was made in vacuum department.
With 90% positive reviews durability was not a major concern unless the machine arrived damaged or defective, in which case we recommend testing the machine right away before discarding the box or receipts, or in case of user error. The manufacturer is a good source of information in case of questions about operation.
FloorMate Models and Prices
Hoover FloorMate with Attachments
The Hoover FloorMate machine is sold together with the following upholstery and corner cleaning attachments (shown at right):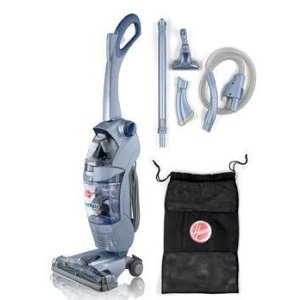 Hose
Extension Wand
2 Nozzles
Model FH40030 (45 Customer Reviews – Read All Reviews)
FloorMate Machine Only
Another option is to buy just the machine without the additional attachments.
Model FH40010B (154 Customer Reviews – Read All Reviews)
Sources: ¹Amazon, ²Wal-Mart, ³Hoover website