Bissell Steam Mop
The five Bissell steam mop models below represent a cross section of options. One model covers the needs of pet owners (yes, we're talking hair removal!) and there's also a model with removable handheld steamer for use on all surfaces around the house.
Be sure see the bottom of the page for more helpful tips about Bissell steam mops and steam cleaning in general.
Bissell Steam Mop Reviews by Model:
Here's an at-a-glance look at the features, pros and cons, and customer comments on current Bissell steam mop models.
Steam Mop Select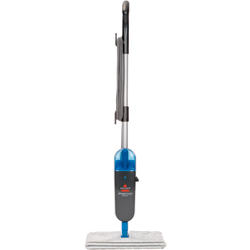 Features:
– Double-sided head, flip over to keep cleaning longer
– Two cloth mop covers included, scrubber and regular
– Clean steam on demand
– 18′ power cord
– Cleaning path 13.4″
Customers Like: Small, easy to store and access. Cleans dried on food. Small , easy to maneuver. Quiet, uses very little water so tank refills last a long time. Long handle yet still lightweight.
Customers Gripe: Even shorter power cord than Deluxe.
Recommendation: Recommend (94% positive reviews – Read All Reviews)
Steam Mop Max Green Tea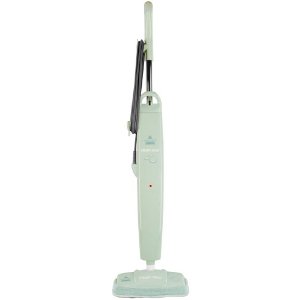 Features:
– Swivel head
– Two washable cloth mop covers
– Clean steam on demand
– 18′ power cord
– Cleaning path 9″

Customers Like: Quiet. Removable water tank for easy filing. Cleans well. Interesting color.
Customers Gripe: Height a little short for some people. Short cord. Leaves water and streaks behind unless you go back to wipe up.

Recommendation: Recommend (80% positive reviews – Read All Reviews)
Steam Mop Deluxe 
Features:
– Swivel head
– Two washable cloth mop covers
– Carpet refresher tool, applies steam from just above carpet surface
– Push-button steam on demand
– 20 foot power cord
– Cleaning path 10.25″
Customers Like: Good size for quick easy clean up. Unique color option.
Customers Gripe: Cord too short. Thick mop cover said to block steam output. Reports of tank leaks and water left behind.*
Recommendation: Proceed with Caution (50-50 positive/negative reviews – Read All Reviews)
*Some drips with steam mops are normal, also practice helps reduce wetness. However, these reviewers clearly stated that leakage and dampness was above a normal amount (see below for more about steam mops and normal moisture).
Steam and Sweep Hard Floors (aka "Pet" model)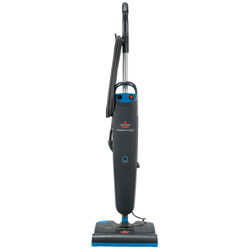 Features:
– Steam mop and Bissell Floor Sweeper in one
– Sweep, steam and mop with single tool
– Swivel head
– 28′ Power cord
– Cleaning path 12″
Customers Like: Water in tank lasts a long time, covers a large area. Steams effectively removes dirt and scuffs. Many favorable reviews compared to Swiffer in getting floors clean.
Customers Gripe: Some say sweeper function not great for picking up small dirt/dust particles, vacuuming still recommended before mopping. Area for brush portion keeps mop part from reaching floor next to walls (though some owners had easy techniques to correct this).
Recommendation: Proceed with Caution (50-50 positive/negative reviews – Read All Reviews)

 Lift Off Steam Mop Hard Surface Cleaner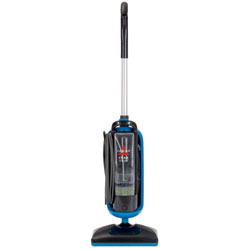 Features:
– Two-in-one steamer: mop and portable steam unit to clean all surfaces in home.
– Four attachments for portable use – 3 brushes, one small pad
– Variable steam output control – the only model here with that option
– Portable steamer weighs 10 lbs when removed (with full tank)
– 28′ power cord
– Cleaning path 11.5 inches
Customers Like: Excels at grout and all around cleaning abilities. Light enough for portability and good maneverability as a mop.
Customers Gripe: . Steam can loosen caulking, use care there. Minor leak if water tank not seated right. No storage for accessories

Recommendation: Recommended (93% positive reviews – Read All Reviews)

About Bissell Steam Mop
Replaceable Water Filters
All Bissell steam mop models have replaceable water filters to reduce mineral buildup inside the steamer. Although you can still use distilled water to increase the life of the filter and the unit, the filter means it's OK to use tap water when that's more convenient.
Steam Cleaning Versus Water and Soap
If you are new to shopping for steam mops, the advantages of steam cleaning are that it does not use any cleaning chemicals so there is no smell or added unnatural chemicals put into your home or the environment.
Also, although it sounds strange, steam cleaning is a drier method of cleaning than typical mopping or washing of surfaces with water because hot steam can actually have a low moisture content. This makes steam cleaning ideal for cleaning walls painted with flat paint and greasy kitchen ranges and hoods that don't come clean with soap and water.
Steam cleaning is also good for sanitizing bathrooms, getting between tiles to clean grout and cleaning windows with no chemicals or scrubbing with paper towels.
How to Disinfect with Bissell Steam Mops
In order to consider a surface disinfected Bissell says you must hold the steamer in one place for at least 15 seconds. Basically it would be very hard to disinfect an entire floor this way. However, the disinfecting function can still be useful for cleaning up in specific situations like if a piece of chicken lands on the floor, or around the cat box in a bathroom for example.
Steam Trigger Tip
Use a velcro strap to keep the steam trigger down when needing extended steam. But also consider that constant steaming is not always a best practice. There are times when on-then-off bursts of steam are more effective.
A Word About Leaks and Excess Moisture
Comments about drips and drops sometimes come up in steam mop reviews. When washing vertical surfaces (like walls, windows and shower stalls) you might need a towel handy to clean up drips. Also, with practice users learn to move the mop and dispense the steam in ways so drops are not left on wood floors or furniture.
Additionally, how much drippage occurs can depend on climate, such as the temperature and humidity when the steam mop is being used. Finally, it's helpful to keep in mind that steam is water vapor, and when it cools it condenses again back to water.
Of course excessive dripping and leakage is nuisance and can be related to poor construction or a design flaw. We definitely take note of these occurrences in all our reviews.
To Prevent Damage – Empty the water tank before storing the steamer. This will help keep rubber seals intact and prevent damage that causes leaking. Also never store a steamer on a wood or leave on a wood floor more than a few minutes. Steam cleaning is meant to be used on wood in passing, or for 15 seconds or so when sanitizing. Extended contact with wet mop cloths or with the condensation that forms as steam cools can damage wet floors. Therefore it's best not leave or store a steamer in contact with wood.